Who doesnt love the look of a designer piece. but if like me you cant always afford to snatch up a designer piece you have to find a High Street alternative. Here is a few key pieces i thought you would like to have in your wardrobe!
This popular style necklace is becoming a noticeable accessory in many girls wardrobe. The 1st image is Stella McCartney costing £175 and the second image is Topshop costing around £12.

Image one is Burberry trench coat costing £695. and image two is ASOS belted mac costing £70. You can see great similarities in both these coats.
The skull scarf i can safely say has been a wardrobe must have for years now and is a Alexander McQueen staple piece. Image one costs £120. from selfridges, net-a-porter.com etc and image two costs £19.99 from River Island.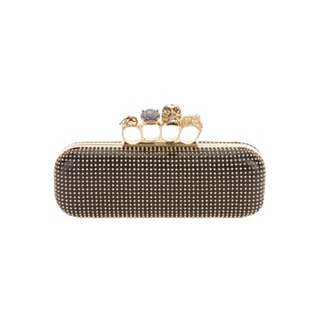 And my personal fave the ring clutch bag. Image one Alexander McQueen costing approx £1500 and image two costing approx £25. from River Island. This is what I'm hoping to find on my shopping trip this week.(wish me luck ill update you guys if i get one!)